GET DIRECTIONS


FROM GOOGLE MAPS
OPEN Tues – Fri; 9am – 4:30pm
ENGLISH SERVICES
English services are held in the main sanctuary.
Sunday:
Family Bible Hour* 9:45 AM
Morning Worship Service 11:00 AM
Evening Worship Service 6:00 PM
Wednesday
Bible Studies for all ages 6:30 PM
Clean nurseries are available with trained and caring workers for all services.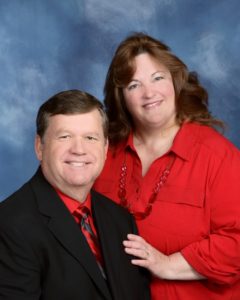 Click on image (or right click to copy/paste email address)
to email Rev. Sam Wilder.
Rev. Sam & Pam Wilder, PASTOR Sam accepted the Lord as his personal Savior on Palm Sunday at the age of ten in Mendon, OH. As a teen he surrendered his life during a missions conference at Alice Ave Baptist Church in Phoenix, AZ, where Pastor McCormick was the Sunday School Administrative Pastor. Sam completed his pastoral studies at Pacific Coast Baptist Bible College and graduated with a degree in Theology in 1979. Upon graduation he moved to Oregon to assist his brother Rick Wilder with the Youth Group here at TCBT. It was here that Sam met his lovely wife Pam and they were married by Pastor McCormick in 1980. They have four grown children; three sons, one daughter and nine grandchildren. Through the past 37 years Sam & Pam have always been involved in ministry serving in various roles from; children, teens, college, adults, deacon & treasurer. Onward and Upward!
Rev. Sam & Pam Wilder; Sam is TCBT's Pastor.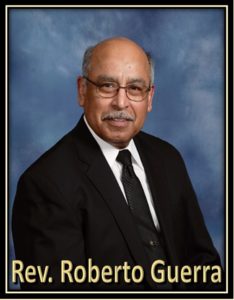 Click on image (or right click to copy/paste email address) to email Pastor Guerra.
PASTOR ROBERTO GUERRA is our Spanish Pastor. Tri-City has a Spanish ministry that meets and worships the same times as our English speaking church in a different location on campus. More information, in Spanish, is provided on the Español TAB above.
SERVICIOS DE ESPAÑOL
Servicios en español están en el tercer santuario de piso
Domingo:
Escuela Domnical 9:45 AM
Hora de Adoración 11:00 AM
Hora de Estudio Bíblico 6:00 PM
Miércoles:
Oración y studio Bíblia 6:30 PM
(click on staff photo to email, or right click to copy/paste email address)