Do you know for sure that you are on your way to Heaven?
It's as simple as A B C!
ACKNOWLEDGE
Acknowledge that God loves YOU…
John 3:16 — "For God so loved the world, that He gave his only begotten Son, that whosoever believeth in him should not perish, but have everlasting life."
Everyone is a sinner, including you…
Romans 3:23 — "For all have sinned, and come short of the glory of God."
Sin has a price that MUST be paid…
Romans 6:23 — "For the wages of sin is death; but the gift of God is eternal life through Jesus Christ our Lord."
BELIEVE
Believe that Christ voluntarily gave His life and died to pay that price for you, giving you the gift of eternal life…
Romans 5:8 — "But God commendeth his love toward us, in that, while we were yet sinners, Christ died for us."
CONFESS
Pray and ask Jesus to be your personal Savior and to come into your life…
Romans 10:13 — "For whosoever shall call upon the name of the Lord shall be saved."
Pray this prayer from your heart and in your own words:
"Dear Lord, I know that everyone is born a sinner, including me. I believe that when you gave your life, you assumed the guilt, shame and punishment for my sins and paid the price so that I could be set free. I ask you to forgive me, save me from my sins and guide me through my life as I follow You until I enter heaven. I am trusting in your loving and saving grace alone. In Jesus name I pray, Amen."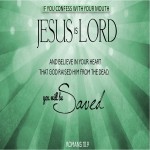 If you have questions or have followed these steps and would like someone to talk with about this very important decision, please contact us at 503-655-9326.